by Paige Donner
I am not one to subscribe to the assumption that rosé is only for summer sipping. I find that the freshness and the liveliness of memories of sunshine can complement a holiday dinner table superbly well. Same goes for a 'French Claret'. And, of course, if you are in a different hemisphere, such as down under in Australia, then a rosé for the Christmas table is actually seasonably appropriate. Well, in any case, whever you might on this planet for this end of 2020 holiday season, here are two excellent Bordeaux choices for your table. One is a classic rosé, and the other is a classic Bordeaux Clairet.
First, our rosé…For this holiday season I recommend indulging in Château Tour des Graves Rosé:
This 32 hectare Cotes de Bourg family owned domain is mostly planted with Merlot. And it's also well-known for its crémants, the bubbly that Bordeaux makes (TIP: another good choice for the festive season). After 5 generations of cultivating vineyards and making soothingly delicious French wines, they have fine-tuned their 70% Merlot, 30% Cab Franc rosé to near perfection. They only make 4000 bottles of this rosé per year, at a yield of merely 50Hl/ha.
Notes: red fruits, strawberries, groseille
Pairing: festive apéritif, warm goat cheese salad, shellfish, shrimp cocktail
Organically cultivated since 2018. Consult the technical notes: Chateau Tour des Graves AOC Bordeaux
---
Next up:
Château de Chelivette
Here you can dream not just of fine French wines to accompany delicious holiday meals shared around a festive table…but you can also dream of the days to come when you can travel to gorgeous settings, such as this little tucked away French Chateau, and sojourn for a weekend whle soaking up the vineyards (and a few bottles of wine, too)…This 18th c. Château de Chelivette was awarded the Best In Wine Tourism award of 2019 and for good reason. The outstanding Entre Deux Mers property has been fully renovated and offers a dream getaway into the vines…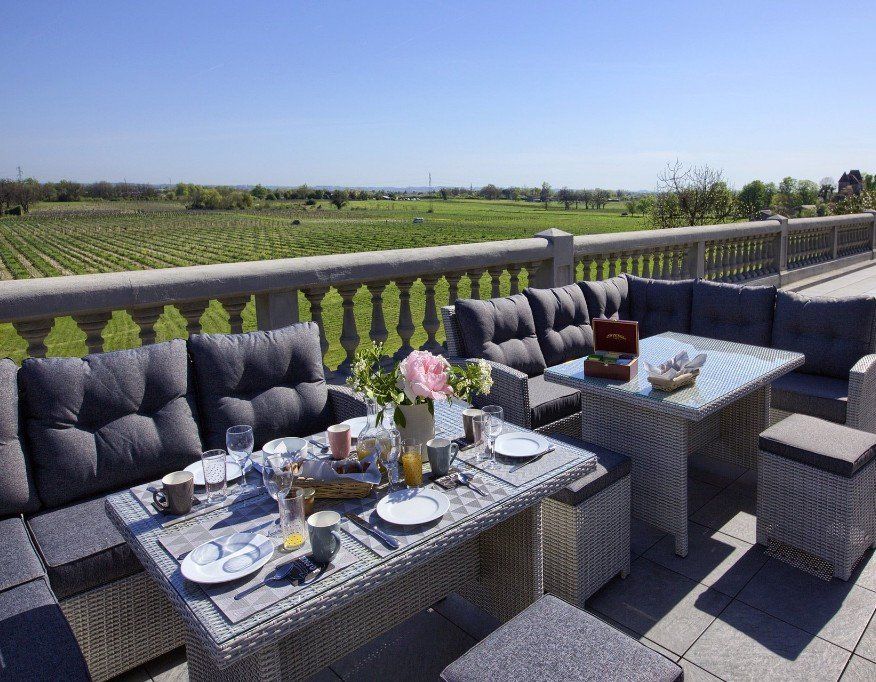 Now, for the wine… Clairet, as you may know, is the wine – 'French claret' – that Bordeaux exported to England centuries ago, ever since the Middle Ages. In fact, it is the wine that is credited with starting the wine export trade.
Clairet de Chelivette offers an exceptional choice for holiday meals. It is neither red nor rosé. This traditionalist of French wines offers a harmony and depth associated with reds, along with a freshness and ease of palate associated with rosés. It is, quite simply, a class unto itself.
Though the stars of wine history, clairet wines have been overshadowed in recent decades by Big Bordeaux Reds. But the holidays offer a perfect time to re-discover this tantalizing classic.
Clairet de Chelivette: Merlot & Cabernet Sauvignon
Vineyards: Biodynamic, manual harvest
Nose: subtle red fruit aromas, raspberry; Mouth: Elegant tannins, wild strawberries, generous, supple
Serve: At temp. between 9°-14° C with Asian, Italian, grilled steak, Fowl, Game, Poultry
Chateau de Chelivette Clairet – Technical Notes
---
---
---
Show Notes: LocalFoodAndWine.wordpress.com & BordeauxFoodAndWine.
wordpress.com ChérieduVin.wordpress.com
Contact Host-Producer, Paige Donner @http://PaigeDonner.info
Show INTRO & OUTRO
BadAss by BensoundMusic.com
---
---
© Paige Donner 2020
---
---
Listen to Paris GOOD food + wine on :
All photos (where noted) copyright 2020 Paige Donner FoodWine.photography
iTunes – Paris GOODfood+wine /
Media Engagements, speaking and collaborations: contact PaigeDonner.info