by Paige Donner ©
LISTEN TO THE PODCAST HERE : Episode 49 Paris GOODfood+wine
Autumn has come quickly this year. Following our very warm summer, punctuated by two historically infernally-hot heat waves, ones which toasted grape vines in the south of France, 2019 looks to have yielded vintage worthy harvests in both Bordeaux and Champagne. As of now, though, we are well into a cold and rainy autumn, with harvests finished and musts already fermenting in tanks.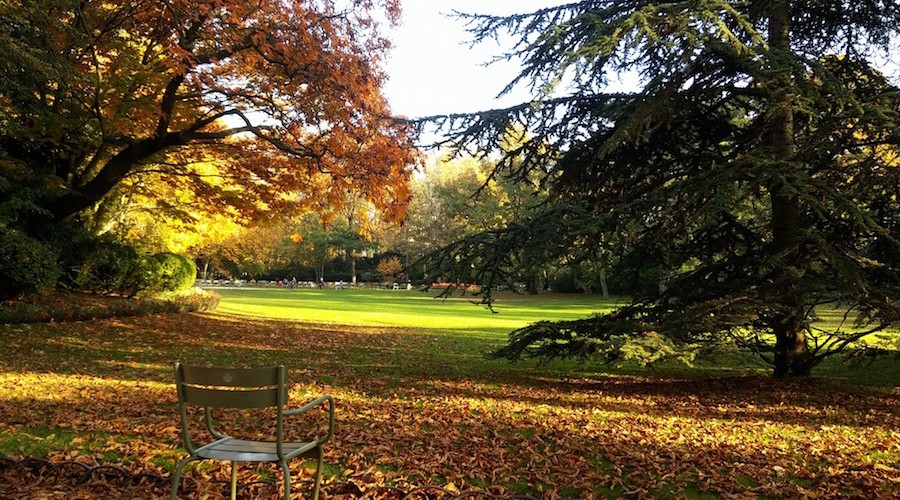 Walking through the Jardins de Luxembourg with my dog here in Paris, it's fun to watch her raise her snout and sniff the breeze to catch those Fall whiffs of fallen chestnuts and amber leaves. Here in France, a sure sign that the season has changed to one of yellows, rusts and orange, is the sight of street vendors selling cones of roasted chestnuts. As I exited the Musée d'Orsay on Sunday, after spending the afternoon looking at the Degas à l'Opéra exhibit, the soothing, delicious smell of roasted chestnuts greeted me. It's one of those smells which, for me, will always be Paris.
The Horse Chestnut Tree , le châtaignier in French, is ubiquitous all over the city. At this time of year, Paris streets and parks are laden with its gleaming, dark brown, shiny nuts called Marron. The marron are the edible nuts. It's admirably enterprising of these chestnut roasters since undoubtedly they simply harvest their nuts from the many Parisian parks, set up a mobile roasting cart, and sell these delicious, sweet and nutty warm treats outside popular Parisian landmarks, like the Musée d'Orsay, the Louvre and the Pont des Arts.
According to August Chevalier, writing in 1941, we don't know the origin nor the history of these chestnut trees here in Paris. But it's thought that they were cultivated since the Middle Ages by the monasteries and abbey monks who numbered significantly throughout the Paris region for at least the past 1000 years. The same holds true for the once abundant olive and walnut trees in the region.
In these show notes, you will find several links to books and blogs that will help you delve more deeply into Paris and its beautiful trees, trees whose leaves are synonymous with the changing aubergine, amber and orange colors of Fall.
But right now, we're turning our attention to wine and truffles. Notably, this episode of Paris GOODfood+wine takes you to the famous La Tour d'Argent, long regarded as Paris' finest restaurant, and certainly still the very best wine cellar in the whole city if not all of France.
This slideshow requires JavaScript.
We'll be speaking with the newly appointed Chef Sommelier, Julien Touitou, who has just been handed the reins by the iconic David Ridgway who is now in semi-retirement.
Then, we head to Burgundy. This is truffle country and we happen to be visiting the Chateau de Vault de Lugny which has its very own truffière, or truffle garden. Truffles are harvested so abundantly here some years that the husband and wife who run the exquisite chateau hotel sometimes even offer their guests a complimentary truffle upon check-in. Beware, though, these are the real kind and not chocolate truffles as one American visitor once mistook them for. Though he quickly realized his error as soon as he bit into it.
You can read more about my visit to the Chateau de Vault de Lugny on 10BEST.com in my article Fairy Tale Vacation: The best chateaus to visit.
This slideshow requires JavaScript.
But for this interview, we are focusing on the husband and wife team who runs the Michelin starred restaurant, Louis XIII. They are both originally from the Mauritius Islands. She, Karina Laval, is the Chef Patissière, specialized in ice cream. In fact, she is the very first woman in France to compete for the Meilleur Ouvrier de France (MOF) in ice cream. He, Franco Bowanee, delights in picking his fresh vegetables in the garden out back and then serving them just a few moments later on your plate. He has truly found his niche by subtly blending exotic island spices from his native home with classic French dishes. You'll be astounded by how wonderfully this pairs with a gorgeous, crisp Grand Cru Chablis which is their local wine region.
So, let's get started. First up is Julien Touitou….
---
Music is Parrot Cove by Rick Dickert, provided free of rights by FreeSoundTrackMusic.com
Show Intro/Outro music is by Bensound.com 'Groovy', all rights and use permissions granted
---
Show Notes: LocalFoodAndWine.wordpress.com &ChérieduVin.wordpress.com
Contact Host-Producer, Paige Donner @http://PaigeDonner.info
---
---
© Paige Donner 2019
---
---
Listen to Paris GOOD food + wine on :
All photos (where noted) copyright 2018  Paige Donner  FoodWine.photography
iTunes – Paris GOODfood+wine / 
Media Engagements, speaking and collaborations: contact PaigeDonner.info